Buying Wine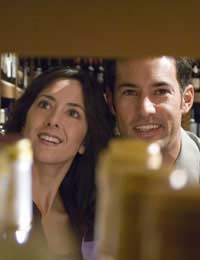 For many of us the choice of where to buy wine has significantly narrowed – we buy either at an Off-Licence or a supermarket. The wide proliferation of chain off-licences and supermarkets on our high streets has its advantages and disadvantages. The buying power of large supermarkets and chain off licences enables prices to be lowered. However supermarkets are in the position of catering for the widest audience, and as such are often limited in what they offer. Furthermore, for supermarkets economic interests are such a predominant factor that there is a risk that the best interests of the wine industry may be ignored. Cheap wines that appeal to the mean average could eventually put small wine growers out of business, except for those that appeal to high end wine collectors willing to part with big money for a single bottle or case of wine.
Supermarket wine is often produced on a mass scale with producers showing little regard for the nuances that distinguish grape varieties. Wines are made for the party crowd, not for the dinner table; consequently robustness and strength become important factors over aftertastes and food compatibility.
Thankfully, there are other ways to buy wine that enable the wine lover (or just the curious) to source quality products.
Wine Merchants
Wine Merchants such as Oddbins train their staff in wine tasting and wine appreciation. Staff will allow customers to taste a wine, if they are liable to buy at some point. Merchants go to considerable effort to source interesting wine and offer a wider price range than supermarkets. Independent merchants are liable to go that extra mile to satisfy the customer.
It is possible to buy direct from the location via arrangement with a merchant at less than wholesale prices if you pay prior to bottling. The Wine Society run such a scheme, which benefits both customers and the vineyard (the customer gets quality wine cheaper and the vineyard is assured of a sale).
On Location
Many Vineyards or Domaines worldwide will have shops and tasting facilities. Some may even offer a wine tasting day or educational event based around the production of wine on that particular vineyard or region. Buying from a Vineyard allows one to survey the terroir and gain a better understanding of the science behind the wine. Wines are cheaper when bought like this.
Internet
The internet has become a valuable resource for buying wine, and is a cheap alternative to the wine merchants. Big buying power and expertise make some wine buying sites a viable source for wines. The Wine Society run a website that aims to make buying quality wines easy. Richard Branson recently entered the internet wine market with 'Virgin Wines' a site that offers members discounts.
The obvious downside of wines bought and sold over the internet is that the buyer is unable to taste first. In this sense, it is a market that favours those with existing knowledge of wine. However, the cheapness of wine bought over the net does allow for risks to be taken and quality assurances are given.
You might also like...