Spanish Wine Regions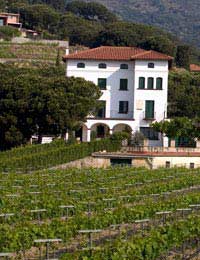 The Spaniards are best known for producing Sherry and Rioja two distinctive wines that we in the U.K. either love or hate, depending on personal tastes.
Spain is the third biggest producer of Wine in the World, although it is one of the least represented of the major producers on our Supermarket shelves and in our wine merchants. Whilst Rioja, Cava and Sherry fare well and are popular drinks, little is known about other regions: Ribero del Duero, Priorato and Penedes. The first of these has only been formally recognised as a wine region since 1982 and produces wines similar to Rioja. Priorato, or 'El Priorat' is known for its reds, produced from Garnacha Tinta and has had a steady reputation for producing rich reds since the 12th Century. Penedes is best known as the original home of Cava (see related article).
History of Spanish Wine
Spain has a rich history in producing wine, matched only by the French and Italians and is thought to have produced wine early as a result of Roman influence. Spanish wine was little known in the U.K. until the last 20 years, where it has enjoyed growing popularity on the back of a general rise interest in quality food and drink throughout the U.K. This coupled with growing affluence and increased foreign travel has made Spanish wine a regular on the U.K. dinner table, although it seems that it will never reach the popularity of French, German, Italian and Australian wines.
The reason for this is unclear, except that Spain on the whole produces red, thereby losing a large share of the market. Further, Spanish wines are ideal accompaniments for Spanish cheese and meats, which are not enjoyed here as much as, for example, French and Italian fare. The strength, fruitiness and gravely tone of many Spanish wines overpower food from other nations.
One wine that has fared well in Britain is Sherry. This is partly due to the fact that it travels and keeps so well. See related article for information on Sherry.
Cava (see separate article) is perhaps Spain's most recent U.K. wine success and is set to become even more popular as it replaces the sometimes over priced Champagne as a party drink amongst students and young professionals.
Spanish Wines to Try
Tempranillo tends to be a particularly drinkable form of Spanish wine, and when called by the name of the grape, rather than by the region (Rioja or Ribero del Duero) is often quite light – a good wine for summer drinking. A good example of a blended Tempranillo is the 2006 Storks Tower Tempranillo Shiraz available from Tesco's for £5.99. Storks Tower also produces a Spanish blended white.
It is often the case that these blended examples are more interesting and palatable to the British taste buds than a Rioja: Regions like Rioja are restricted in what they can put into their wines; other regions are free to experiment with grape varieties from across the world. There is a proof here of a useful factor to bear in mind when choosing wine: blended wines can often be as good as or better than varietals. Of course, this is a matter of personal taste, but don't be fooled into paying more for a 'varietals' when very good blends exist out there.
You might also like...