Wine Cocktails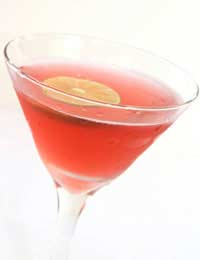 A wine cocktail is something that for many people fly's in the face of good table manners tasting convention, and common sense. To taint a wine by mixing it with another soft or alcoholic drink serves to ruin all of effort on the part of the producer in developing a wine with specific tastes and qualities. It is also poor etiquette to mix drinks in such an 'uncouth' fashion.However, the wine cocktail has its place, and is a great way to spruce up a party or dinner event.
Wine cocktails tend to be classy affairs, as opposed to the kind of cocktails that are consumed in quick succession in seedy backrooms of clubs, during promotional cut price drinking events. Drinks such as Bellini – Prosecco mixed with Peach Puree, or Champagne Cocktails, involving Cassis mixed with the King of all wines ('Kir Royale') are certainly ideal for the party atmosphere, yet are not to be consumed with the kind of passion that results with their being dispersed along with the morning's breakfast down the familiar porcelain chamber of your local nightclub!
Cocktails to Try
There are many cocktails to try, and innumerable still there to be invented. One of the keys to producing a good wine cocktail is in letting the wine have space to express itself. If you are going to drown the wine in stronger tasting alcohols there is no point in including it – better off basing you mix around a neutral soda water. If you do wish to use wine, then choose carefully, and let it speak aloud, amongst the various other ingredients you use.
A simple example of an effective wine Cocktail is 'Buck's Fizz': Champagne mixed with Orange Juice. If on a budget try Cava with a very cheap Orange Juice! Do not stoop to sparkling Asti with Orange Squash concentrate: The beauty of a good Buck's Fizz lies in the simplicity, and in the quality of its ingredients.
A slightly more complex version of the Champagne cocktail includes Gin, Champagne, Lemon Juice and Sugar. Simply mix half a flute of Champagne with a small amount of Gin, add a twist of Lemon Juice, then top up Champagne to taste!
Red wines are not often used in cocktails and, as such, can be a great surprise at a party. One example is the 'Bishop Wine Cocktail': 3 ounces of red wine (try a medium quality one, a poor quality one will ruin the cocktail, a very good wine would be wasted), 2 ounces squeezed Lemon Juice and 2 teaspoons of simple syrup (two cups of water dissolved in two cups of water, until the mixture resembles olive oil in consistency.
For the Party Animal in you, you may wish to try a 'Fire Wine': Red Wine mixed with an energy drink such as Red Bull. Be warned – this is for after the good wine has gone, and after the adults and wine connoisseurs have gone to bed!
Other than the above mentioned, the best way to 'experiment' with wine cocktails is to have a good supply of wine built up, and a good range of mixing ingredients to hand. That way, when the fine wines have been finished, and the palate has gotten lazy, the cocktails can come out in order to enliven the party and get the guests chatting again!
You might also like...