About Our Site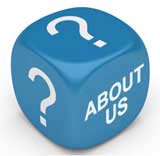 ExploringWine was formed to offer a unique reference point on buying, making and tasting great wine.
Wine: that wondrous product of what...certain types of grapes? What about berries, dandelions and nettles, to name but a few alternatives? How do you decide which wine to cook with and which wine to serve?
This website, ExploringWine, does exactly that: it explores all aspects of wine. Full of tips, wine facts and useful information about the world's wines, it has something to offer everyone; whether you plan to make your own wine, cook with wine, find out more about wine, or even... just enjoy drinking it!
Wine and wine-making can be an extremely emotive subject. There are those who give the impression that to fully appreciate wine we must all be sworn in connoisseurs, with highly-trained noses and palates; not so! Wine drinking does involve all the senses (even hearing if you count the pop of corks!) but exploringwine can help anyone to feel comfortable about drinking wine that appeals to them, rather than what people tell them they should appreciate.
ExploringWine can help each individual to find out more about the whole process of growing, producing, selecting and using wines. It demystifies some of the apparent snobbery and ceremony involved and educates us about the choices we make. Wine lists need never be a lucky dip again!
So, wine-lovers, read on and celebrate the diversity, history and uses of the world's fantastic fermentations.
Our concern was that there was no single UK resource for interesting features and practical advice on this subject.
Our features and articles are written by experts - who have experience, or a particular interest in this area.
Our Background
ExploringWine was founded by John Rowlinson, the founder of PtS.
John, through PtS, is involved in a number of ventures including software and property companies. A percentage of revenue from these activities goes towards funding ExploringWine and a number of similar sites.
Our focus is simply on having experts create the highest quality information possible that is widely read.
Related Articles in the 'Site Information' Category...