The Right Wine for Christmas Dinner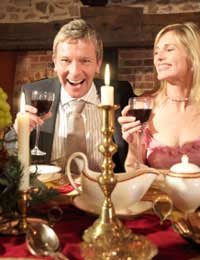 You've got enough to worry about at Christmas without the added stress of what wine to drink with dinner so our first advice is: relax!
Our next piece of advice is to choose the wines you like not the wines you think you ought to have. It's your home, your dinner table; there are no rules about what you should or shouldn't drink with turkey, and what you opt for is entirely up to you – and your purse.
It's the family gathering that's important. There's really not a lot of point in bringing out the most expensive showiest wines. Save those for other occasions when they won't be over-shadowed by the excitement of the day. The wine you want for Christmas dinner is one that complements what is eaten, one that will add to the enjoyment of the meal. Because the vast majority of households will be tucking in to turkey on Christmas Day we're going to suggest some wines that are tried and trusted favourite accompaniments as well as some less likely pairings.
Because turkey is a primarily white meat it's sometimes thought that the appropriate drink is white wine but turkey has a richer flavour and stronger texture than chicken and is traditionally accompanied by some strong flavours in the stuffing, sauces or dark giblet-based gravies. So perhaps the most important question to ask is: what sort of wine do you and your family prefer?
Red wine
Light fruity reds are your best bet, and of those, you'll find Pinot Noir is the most frequently recommended red wine to accompany Christmas dinner. It's lighter on tannin than, say, Cabernet Sauvignons and will go well with both the turkey and the side dishes. It's strong enough for goose, duck or other game too. You may even like to try chilling it very slightly before opening.
Every November many restaurants and wine bars race to be the first to offer Beaujolais Nouveau (the first wine of the year to be harvested in the French region of Beaujolais) to their customers. A fresh, light-bodied red, you might consider this as something a little different.
However if you're a lover of big red wines and drink those whatever the food, then choose a rich oaked Rioja or an Australian Shiraz.
White wine
Dry white wines will cut through the richness of the food and cleanse the palate allowing you to taste more fully the various flavours on offer. German Riesling is highly recommended amongst the white wines. Look for Kabinett signifying an early harvest and a dryer wine; Spätlese is a little sweeter. Chardonnay is less acidic and consistently a very popular wine. Alternatively try a Sauvignon Blanc or Chenin Blanc.
Sparkling wine
All too often the sparkling wines are reserved for special occasions and particularly for drinking a toast. Well, we think Christmas is a special occasion and if you enjoy a sparkling wine, then drink it throughout your Christmas meal to add an especial celebratory atmosphere. The bubbles and acidity will have the same cleansing palate effect as the dry whites and a good quality brut champagne should be able to hold its own against the food.
Dessert wines
Dessert wines are typically very sweet and if that's to your taste then by all means open a bottle to accompany your Christmas pudding. But you may like to try a dryer chilled Gewürztraminer or Spätlese with your dessert and the cheese board.
Conclusion
Christmas dinner isn't really a time for experimenting so if you want to try something very different, have a practice run a week before! Choose what you know you and your family will enjoy. Offer a choice. And remember: you're supposed to enjoy Christmas dinner too so don't worry!
You might also like...