Wines From Around the World: Canada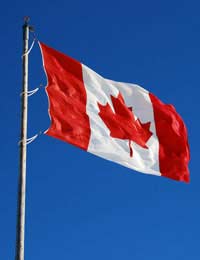 For most people thinking about wine, Canada isn't top of the list of wine-producing countries. But the fact is that Canada has a thriving wine industry with over 500 wineries.
The History of the Canada Wine Industry
In 1811 Johann Shiller, 'the father of Canadian wine', planted a small vineyard in Ontario; in 2006 the trophy for the best shiraz in the world, awarded at the International Wines and Spirits Competition in London, went to a wine from Canada – the first time the prize had been given to a north American red wine.
During the almost 200 years in-between Canadian winemakers have put in a tremendous amount of effort and experimentation to discover what works best in their cool climate. Today a number of Canadian universities have research centres that specialise in viniculture. There are even several organic and kosher wineries in Canada.
The Grapes
Most of Canada is too cold for traditional vine-growing and the majority of winemaking happens in southern Ontario and British Columbia, although grapes are also grown in Quebec, Newfoundland, Prince Edward Island and Nova Scotia.
The wine that is produced from grapes grown in cool climates tends to be higher in acidity, and has a lighter fruitier flavour that of warmer climes. The most successful - and most popular - grape varieties are Chardonnay, Pinot Gris, Merlot and Pinot Noir.
Where to Find Wine from Canada
In the UK you're unlikely to find a bottle of wine from Canada in your typical supermarket. Even in off-licences you'll be lucky to find one bottle, let alone a choice! There are some online companies that will have a selection but the ones we looked at only sold them by the case – and they were at the more expensive end of the market.
So the best way to sample Canadian wines is to visit Canada!
One of the pleasures we derive from travel to distant lands is experiencing food and drink with which we are not familiar. Rather than ordering French or Australian wine with your meal out in Canada, try the home-produced wines. Many wineries will offer tasting tours, where you can sample before you buy.
Canadian Wineries
Although all very young by European standards, a number of Canadian wineries produce internationally-acclaimed wine. Names to look out for are:
Jackson-Triggs (producers of the award-winning shiraz mentioned earlier);
Inniskillen (near Niagara Falls, award-winners and possibly the most internationally well-known Canadian winery);
TinHorn Creek;
Mission Hill;
Domaine de Grand Pre.
But the one thing you really must try and taste is Icewine.
Icewine
To those us who associate wine with the warm sunny vineyards of France and Australia, icewine sounds like a contradiction in terms. It was first made by accident in 1794 in Germany. Bad weather forced the wine-producers to use frozen grapes for pressing and the resultant wine was very sweet. It wasn't until some years later that producers decided to recreate it deliberately by leaving the grapes on the vine until the weather grew cold and they froze.
The first icewine was made in Canada in 1973 but it wasn't produced on a commercial basis until 1978. Today Canada is the world's largest producer of icewine.
How it Works
The grapes are left on the vine long after the usual harvest period. When they are ready for picking they are frozen, shrivelled and fragile but must be unaffected by rot. They are picked by hand, in temperatures of -10, by men and women muffled against the bitter wind in layer after layer of thick clothing and gloves.
Once picked, the grapes are kept under cold conditions and pressed carefully in special basket presses. The water in the grape remains in the skin as ice crystals and only the most concentrated juice is extracted. The juice is allowed to ferment very slowly and naturally, without the aid of enhancers, resulting in an intense and flavoursome sweet wine with a clean dry finish.
Icewine is expensive to produce but there is a high demand for it, especially in the Far East. Several varieties are available in the UK, with a starting price of around £30. In 1991, Inniskillen Icewine, 1989 vintage, won Le Grand Prix d'Honneur, at Bordeaux's Vinexpo. This brought icewine to the attention of both the wine world and more casual wine-drinkers.
You might also like...