Different Types of Grapes in Wine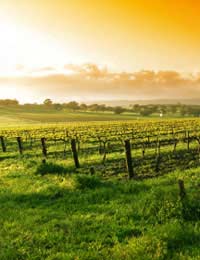 Virtually all wine is produced from the cultivation of one broad variety of grape – 'Vitis Vinifera'. This particular form of grape was originally cultivated in the Middle East and Europe and has since been exported around the world coinciding with the spread of European Empires.
Vitis Vinifera is the domesticated form of the wild Vitis Sylvestris which grows naturally in Mediterranean forest settings. The earliest domestication of Vitis Sylvestris coincides with the early widespread recorded consumption of wine, between 4000-3000 B.C.
Vitis Vinifera has been trained to produce many sub-varieties over the millennia. Most broadly it can be categorized into red and white, although within these broad categories there are many further well known and lesser known grapes. For information on specific grape varieties see related articles. For now the main varities of grape used in the production of wine are:
Red: Cabernet Sauvignon, Gamay, Merlot, Pinot Noir, Shiraz/Syrah, Tempranillo
White: Chenin Blanc, Chardonnay, Gerwurtztraminer, Riesling, Sauvinon Blanc, Semillon
Many of these grapes are grown throughout the world, although they are generally associated with one particular region. In some cases grapes are becoming most closely associated with areas foreign to them. For example, the Chardonnay grape is now linked with regions such as California and Australia despite it having originated in France, where it a staple of many white wines.
Lesser Known Grapes
There are a great many grapes besides those described above, many of which are used to bulk up wines, or for specific wine variations, such as sherry and Madeira. A knowledge of all the grapes is not really necessary, but rather, it makes sense to note interesting or unusual grapes as you discover them.
Trips to other countries serve as a valuable way to discover varieties that we are not normally accustomed to, especially as the dominance of new world wines in supermarkets and local off-licences is tending to restrict choice. Doing so can enable one to become familiar with the wines of countries that are often overlooked, such as Austria, Romania, or even Germany, whose reputation has declined over the last 20 years.
Regional Differences in Wine Making
In fact, taking such a regional approach to building up a knowledge of wines makes sense in that wine made from the same grape can vary greatly from region to region, ostensibly as a result of differing terroir, but possibly as much due to differing production methods.
This is very true of the ever popular Cabernet Sauvignon and Merlots made both in France and in the new world. For this reason wine lovers have begun to develop loyalties either the New World, where wines tend to be more robust, and stronger, or to the traditional wine producing world, where flavours are believed to be more subtle.
Another example: Pinot Gris from Alsace tends to be far more full bodied than Pinot Gris from Italy or from Oregon and so much stronger in flavour as to distinguish it completely from its counterpart. For this reason, when considering grape varieties a firm grounding in other elements that may affect a wines flavour is useful.
You might also like...