Ginger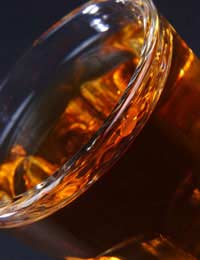 Ginger Wine
Ginger Wine although rarely drank these days has enjoyed a rich history as one of the UK's favourite alcoholic drinks. In the 18th and 19th Century Ginger Wine was buoyed by claims as to its 'health' giving properties, something not entirely unfounded as ginger has a positive influence on the digestive system.
Ginger Wine has a distinct ginger flavour, which gives it something of a bite and is ideal for warming one on a cold night. It is often mixed with Whiskey as a 'Whiskey Mac' or with ginger ale, tonic or lemonade.
Production
Ginger Wine is made from ground ginger and raisins, which are fermented together. It has been produced in this way since the early 18th Century, and along with other strong drinks (Ginger Wine is around 15% abv) suffered under restrictive laws intended to curb rife alcoholism in the 18th Century. As such, Ginger Wine could not be sold direct to the public, necessitating the establishment of an official vending outlet. One Joseph Stone, a greengrocer with a store in Holborn, stepped in at this point giving his name to the most commonly sold Ginger Wine to this day – 'Stones Ginger Wine'.
Ginger Wine enjoys a long history of home brewing, partly due to the relative ease with which it is made: It is not subject to complex climate and terroir conditions, and is not notable for its subtle and complex flavours, therefore does not necessitate expertise on the part of the brewer. Ginger raisins, yeast, water and sugar can be simply heated in a pan and then left to ferment over a couple of weeks. Sometimes it is fortified with Brandy.
Whisky Mac
Ginger Wine really comes into its own when mixed with Whiskey. This can be made as straight mix of one third whisky to two thirds Ginger Wine (Whiskey quantities can be reduced to taste). As a variation of this the Whisky and ginger can be heated in a pan with cloves and cinnamon added, making the ideal alternative to mulled wine.
An alternative 'Ginger Mick' is made from a mixture of one part Ginger Wine to one part Brandy.
Various other cocktails can be made incorporating Ginger Wine, which is seen as an ideal mixer. Try it with Cola, Vodka, or Gin!
Ginger Wine with Food
Ginger Wine is a good sweet yet spicy addition to food, and can be used in both main course and dessert recipes. Despite not being considered on par with grape based wines, Ginger Wine had been introduced to restaurant kitchens in recent years by young chefs keen to experiment with its unique strong flavours.
As an accompaniment to food it could be considered overpowering, and like sherry or vermouth could be better served as a digestif or aperitif.
Ginger Wine stands in a category of its own – a noble drink, that can be enjoyed at a variety of functions relatively cheaply. It is however, a 'wine' likely to be scoffed at in wine connoisseurs circles. This is due in part to the simplicity of its production and to its blatant flavour.
You might also like...