Burgundy: Red and White Wines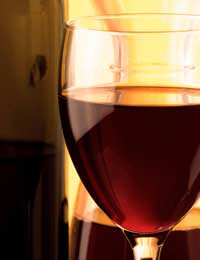 Burgundy known as Bourgogne in French, is a province in Eastern France famed for its delightful red and white wines, made predominantly from Pinot Noir and Chardonnay respectively. The province encompasses the wine regions of the Cote de Nuits and Cote de Beuanne in the department of the Cote D'Or, and the Cote Chalonnaise and Maconnais in Saone-et-Loire.
It is one of the largest wine growing regions in France and, like Bordeaux, is extremely complex to understand. The terroir, the soil, the sun, the vines' entire habitat and climate is said to be crucially important to Burgundy wines. Neighboring vineyards on the same slope can, in the same season, produce wines of wildly different qualities, from the mundane to the sublime.
Burgundy has a very long winemaking history. In the graveyard of the village church of Corgloloin there are tombstones dating back to the 2nd century AD depicting grapes and Celtic gods holding vines, demonstrating that viticulture has long been an important part of life in Burgundy.
After the end of Roman rule Burgundy was governed by the Franks, the Alamans and the Vandals. In his 'History of the Franks' in 591, Gregory of Tours praised the noble wines made around Dijon. The rule of Charlemagne brought political and financial stability to Burgundy, and during the middle ages it was at the monasteries that winemaking excellence was developed in the region. The monks had many advantages over other growers, not least access to cellars to mature wine and the time and money to develop viticultural systems. Through donations from pious citizens monasteries were able to buy and maintain large areas of vineyard.
Burgundy Wine Classification
The classification of Burgundy wines is taken seriously as the classification of Bordeaux and Champagne products. Again, the system in Burgundy is unique, being oriented predominantly around 'terroir'. This owes partly to the rich history of wine making in Burgundy, and the close attention paid to terroir throughout the middle ages by the diligent ecclesiastical community that inhabited the region.
The French Revolution saw a break up of the vineyards, which were re-distributed among the non-clergy. This system aimed to distribute wealth evenly among the citizens of Burgundy. Following this, communities arose that pooled their grapes (some owners having only one or two vines to their name!). It is common for these grapes to then be sold to bigger producers. For this reason the importance of 'terroir' remains central to wine classification, as it helps to distinguish wines produced in a single vineyard from those produced over a region, or indeed, those using grapes from all over Burgundy. The classification of Burgundy follows the same rules as the classification of Beaujolais (see related article: 'Terroir').
There are five main divisions of Burgundy wine: Grand Cru (from a selection of highly respected vineyards); Premier Cru (from specific vineyards); Villages (from a particular village); AOC Bourgogne (using grapes sourced from anywhere in Burgundy); Bourgogne Grand Ordinaire (as with the former, but using grapes harvested across an expansive region, making taste difficult to define/control in production).
These classifications serve to inform the wine buyer, who may over time begin to get to know the particular qualities of a vineyard or village.
Buying Burgundy
Burgundy is one of the most collectable wines, with some vintage bottles fetching top prices not far off those commanded by Bordeaux vineyards.
A good Burgundy is, on the whole, fairly expensive in any case, and this is due in part to the reputation that the region holds. The Burgundy Pinot Noir, one of the most respected wines worldwide, is sadly under appreciated by the average consumer due to its price. However, price is not always an indicator of quality, and if an affordable Burgundy can be found, it is well worth a try. To fly in the face of better judgment, it is possible to pick up a reduced Burgundy from the Supermarket – doing so will at the least demonstrate why this region has for centuries vied with the nearby Champagne region for wine making superiority.
As Red and White Burgundy are made nearly exclusively with Chardonnay and Pinot Noir grapes choosing a wine really does depend on knowledge of separate villages. Nothing short of years of studied involvement in the wines of Burgundy could equip one with the knowledge required to know the characteristics of each separate Village or Vineyard: There are 562 Premier Cru Vineyards and 33 Grand Cru Vineyards, and many notable Villages besides!
Beaujolais
Beaujolais is made in the Burgundy region, but is not classified as a Burgundy. As discussed elsewhere, Beaujolais is a light Red wine made from the delicate fruity Gamay grape. It is generally cheaper than Burgundy and is often derided as a party drink, though in actual fact it is possible to buy a good quality Beaujolais. It is the sort of drink that wine buffs scoff at in order to give themselves a felling of superiority! Don't be put off by such behaviour. Often a truly knowledgeable/confident drinker will not be in need of such put downs!
Exploring Wine is sponsored by Purely Energy, who have funded a lot of our content. If you are looking for a low cost business energy supplier, take a look at their website.
EXPLORING WINE IS FOR SALE.
This website is for sale [more info].
You might also like...