Bordeaux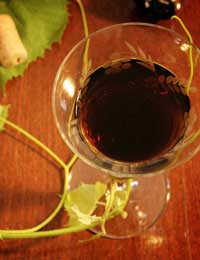 The Bordeaux region of France is considered by many people to be second only to Champagne in terms of the quality of its wines. This makes Bordeaux a favourite both in terms of taste and in terms of investment. Bordeaux is the largest fine-wine producer in the world and has the second largest acreage worldwide – bigger than the complete vineyard acreage of Germany!
The limestone soil and the Climate in Bordeaux (similar to neighbouring Bergerac) make it an ideal area for the production of Red Wine. Red Bordeaux is famed the world over, and is often referred to as Claret in the U.K, and consists predominantly of Cabernet Sauvignon, Cabernet Franc, Merlot and Petit Verdot.
White Bordeaux is made generally from the Sauvignon Blanc, Semillon and Muscadelle grape. The Sweet White 'Sauternes' is famed as a dessert wine.Broadly speaking, Cabernet Sauvignon, Merlot and Sauvignon Blanc are the three main types of wine produced in Bordeaux and form the basis upon which wines across the world are made in attempts to match these wines.
Bordeaux Wine Regions
Bordeaux is divided broadly into two wine regions – The Left Bank and the Right Bank:
The most famous of the Left Bank regions is the Medoc and its sub regions.
The most famous of the Right Bank regions is St Emillion.
The Left Bank tends towards the production of Cabernet Sauvignon and the Right Bank tends more towards Merlot. However, there are exceptions, and the terroir in Medoc produces wines closer to the Right Bank Merlot than to the more common Left Bank Reds. Beneath the Medoc region lay four left bank 'communes': Margaux, Pauillac, St-Julien, St Estephe, all known for Cabernet Sauvignon.
The other well known Left Bank region, 'Graves', is famed for its production of whites, incorporating Cabernet Sauvignon and Semillon. It is also the production area for the dessert wines 'Sauternes' and 'Barsac'. Sauternes is made with Semillon, a grape subject to what is termed 'the noble rot' – a mould that covers the grape during growth, and which has a desirable effect on the wines eventual outcome!
The Right Bank regions of Pomerol, Saint Emillon and Bourges are all principally known for blends relying heavily on merlot, as well as straight Merlots, incorporating more than 85 per cent of this classic grape.
The Bordeaux Classification System
So famed and respected is Bordeaux that Napoloeon III demanded that a classification list be drawn up, along the lines of a wines quality in 1855. The system drawn up for the Exposition Universelle de Paris employs a ranking system from 1 to 5, with the best wines ranked 'Premier Cru' and subsequent wines being ranked 'Deuxieme Cru', and so on.
In the History of French Wine such stories are common, paying tribute not only to the pride that French have in the their food and drink, but also to the often bizarre bureaucratic lengths the French will go to in protecting their wines. Whilst, of course, these classifications are of some use in determining a wines origin, only one minor change has been made to this system since its inception, meaning that it is, arguably, woefully inaccurate, that is supposing that it ever could have been objectively accurate in the first place!
That said, St-Julien has the highest proportion of classified estates in the Bordeaux region, and is well worth a visit for the quality of many of the wines, and in order to a get a feel for the history and tradition in which Bordeaux wine is steeped.Wines that fall outside the 5 tier classification system may be classified by their wider region, or by grape.
Investing in Bordeaux
Bordeaux wine is such a stable investment area that some investors prefer it to conventional stocks and shares. It is possible to but an investment portfolio form a company such as Morgan Aston Ford. Over time Morgan Aston have demonstrated that investment wine produces a low risk high return investment opportunity. Such companies will even have your wine stored in an appropriate cellar for you, and advise you on when is best to sell.
When asked Morgan Aston Ford advise that:
'To ensure the best returns, coupled with the security of a blue chip asset; an investor should look to purchase a highly rated Premier Cru wine from a universally acclaimed vintage.'The benefit of investing in wine via a company such as Morgan Aston Ford, is that they will help guarantee the best purchase – purchases of the most highly valued wines can be difficult otherwise for the individual.
Here an additional benefit is offered by Bordeaux wine – it you are a wine lover with money to invest, why not support the home of quality wine, whilst making one of the most stable investments that exist!
Exploring Wine is sponsored by Purely Energy, who have funded a lot of our content. If you are looking for a low cost business energy supplier, take a look at their website.
EXPLORING WINE IS FOR SALE.
This website is for sale [more info].
You might also like...