The Cabernet Sauvignon Grape & Wine Production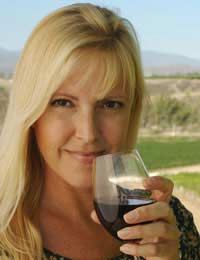 Cabernet Sauvignon is the foremost classic red grape. Few would argue with its position as the noblest of all the world's grape varieties and it is, unquestionably, along with Chardonnay, the most marketable wine variety. The grape is also one of the most widely planted, used in almost all the wine growing regions around the world. Cabernet wines vary enormously in terms of quality, structure and maturity, and is characterised by its ability to transform from the unremarkable to the sublime with ageing. The finest examples can improve for decades and remain drinkable for a century.
Cabernet Sauvignon originates from the French region of Bordeaux, where it remains the principle grape used in many of the regions wines. Historically the Bordeaux red wines were the world's most prized Cabernets, especially those produced in the Medoc communes of Margaux, St.-Julien, Pauillac and St.-Estephe. Cabernet is still the main grape of Bordeaux reds, and is grown elsewhere in France, notably Languedoc-Rousillon.
Although the grape requires a long growing season and produces low yields it has been exported successfully to the entire winemaking world. Top-class Cabernets are now regularly being made in California, Italy and Australia. Italian winemakers have traditionally been suspicious of Cabernet Sauvignon, and it appears in very few of the country's Denominazione di Origine Controllata (DOCs). In Tuscany in the 1970s, despite its exclusion from the DOC system, the grape was used by a group of expert producers to make some outstanding wines know as the 'Super Tuscans'. Fine examples of these include Sassicaia and Tignanello.
In California Cabernet Sauvignon has brilliantly adapted to climactic conditions that are very different than those of its rather temperamental and marginal Bordeaux homeland. In the last four decades acreage of Cabernet vines has increased dramatically, and California is now the biggest grower of the grape outside of Bordeaux. Distinguished wines are made in places such as Napa Valley and the warmer American Viticultural Area (AVA) of Sonoma County. Californian wines often use a combination of Cabernet Sauvignon with Merlot and Cabernet Franc, blends used also used in Bordeaux. Ruby Cabernet is also added, often to the more commercial versions, to give structure, richness and accessibility.
The Cabernet Sauvignon vine produces small, dusty, black-blue berries with thick skins. This characteristically thick skin gives the variety very high tannin levels, which in turn give structure and enable long ageing of the wines. Cabernets are deeply coloured, full-bodied wines with notable tannins and well-defined aromas. The Old World wines, including those of Bordeaux, have bouquets filled with violets, blackcurrant, cedar and spice. New World wines made from the grape display the same scents but these are usually dominated by chocolate, ripe jammy berries, oak, pepper, earth, mushroom and cigar box. Notes of cassis, red cherry and blackberry define many of the Cabernet Sauvignons from warm regions. Cooler climates tend to emphasize greener, herbaceous aromas of capsicum and eucalyptus. Australian examples of the wine are full of eucalyptus fragrance, particularly those from Coonawarra.
In recent years studies have revealed the health benefits of drinking Cabernet Sauvignon. The grape has high levels of resveratrol - which increases levels of "good" cholesterol and slows production of "bad" cholesterol, therefore reducing the risk of heart disease. The same compound has also been found to reduce levels of certain peptides that cause Alzheimer's disease. So Cabernet Sauvignon is certainly one to remember!
Cabernet Sauvignon and Food
Cabernet Sauvignon goes well with red meat, casseroles and game. It goes with a number of cheeses: Try Cheddar; Couer de Neuf Chatel; Parmesan and Romano. New World Cabernet Sauvignons will go well with fatty and spicy meats, due to their robust nature.
You might also like...