Chenin Blanc Wine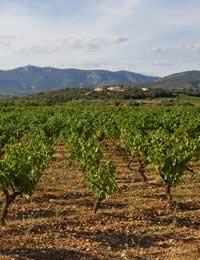 Chenin blanc also known as 'Pineau de la Loire' or simply 'Chenin', is a distinctly versatile variety of grape. Chenin Blanc's high levels of acidity enable its use in a wide range of drinks: dry white wines, sparkling whites, well-balanced dessert wines and even brandy. Originating from the Loire Valley in France, the grape is grown widely elsewhere and is considered by some to be one of the greatest French exports, if only in consideration of the vine rather than wine. The grape is used in many New World wines, notably in South Africa where it is known as Steen. In South America it is called Pinot Blanco (although it is no relation of Pinot Blanc), and is grown successfully in Brazil, Chile, Mexico, and Argentina. It is also grown in California, New Zealand and Australia.
Chenin Blanc grows well in climates that are too warm for some other grapes due to its resistance to many diseases and a tendency to come into bud early and ripen late. It is highly versatile and adaptable to many different soil conditions.
Historical records of Chenin Blanc date back to the ninth century where it was first grown in Anjou, France. It is likely the grape was borne of a mutation in Pineau d'Aunis (Chenin Noir). From Anjou the vine spread first to the Loire then later to the Rhone. The settler Jan Van Riebeeck may have been the first to bring the grape to South Africa in 1655, or it is argued that it may have been taken with French Huguenots fleeing Europe in the 1680s. The grape became the most commonly grown variety in South Africa, but it was only in 1965 that Steen was identified as being the same plant as Chenin Blanc. There is also confusion over the history of the grape in Australian viticulture; it may have arrived with the Busby collection of 1832, but was often wrongly identified. It is known, however, that C. Waterhouse was growing Steen in South Australia in 1862.
Chenin Blanc is still grown widely across New World vineyards, where the climate encourages the vigorous growth characteristics of the grape, and enables large crops. In recent years, however, there has been a general shift from quantity to quality, and other more fashionable grapes have replaced some of the Chenin Blanc vines, Chardonnay in California for example. Despite its versatility most Chenin Blanc is used to make bland table wines, and almost all of the best expressions of the vine are still made in France. The whites of Anjou are dry with flavours of quince, cantaloupe and apple. In Vouvray a longer ageing is favoured which brings out floral notes of honeysuckle. Other products of the grape have deeper aromas of hay, flint, gym sock and iodine. Whether dry or sweet, the best Loire Chenin Blancs display the grape's trademarks of marvellously concentrated rich, honeyed fruit together with refreshingly vibrant acidity.
Try with a Livarot, Olivet Cendré or Pont L'eveque cheese, which go well with the grapes acidity.
You might also like...