The Merlot Grape & Wine Production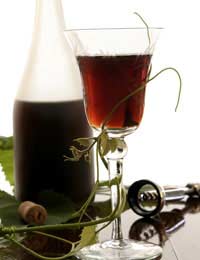 Merlot is a classic red grape as ubiquitous with solid reliability as the noble Cabernet Sauvignon is. Merlot is cultivated the world over as a dependable, bold and fruity red. Merlot has made it's name firstly as the main red grape planted in Bordeaux and more as a New World staple, successfully grown in the huge growth markets of California and Australia. It is a high yielding grape that seems to do well in a variety of climates. It's age, this speaks for a lot, and is enough to encourage many vineyards to develop plots dedicated to Merlot crops in order to further satiate the low to mid-range world wine market.
Merlot as a drink is not particularly complex. It is enough to say, in fact, that one knows what they are getting when they buy a Merlot, and that usually it's not half good, although by standards as a whole it is rarely an 'excellent' drink. Merlot has a distinct rich flavour, and often a velvety palate. If you enjoy a robust red, you cannot go far wrong, but be warned that it is rarely the most exciting drink on a wine menu.
It is most comparable to Cabernet Sauvignon, although it is possibly the less respected of the two amongst 'experts'.
Origins and Development
The French slang 'merlot' meaning 'little blackbird' gives its name to this grape, due to its rich and sleek dark appearance – which gives the finished drink an almost regal air.
Merlot has been recorded in France since the late 18th Century and may have been a genetic mutation of Cabernet Franc. It has developed a wide following amongst Californian producers, with a recent rise in production in both Australia and New Zealand.
Merlot is generally used in France as part of traditional Bordeaux blend, where it accounts for a percentage of the grapes, alongside 'Graves' and 'Medoc', 'Cabernet Sauvignon, Cabernet Franc' and 'Petit Verdot'; amongst others. It is used to best effect in St Emillon and Pomerol as a dominant grape, supplemented by either Cabernet Franc or Merlot.
The Chateau Petrus, for example, has an outstanding reputation, although a good vintage will set you back a small fortune! It is possible, however, to find a good wine from a village local to St Emillon or Pomerol for a fraction of the price: a good merchant will be able help you do this, although a trip to the region will yield the best in value.
In the New World, whilst Merlot is often produced as a 'varietal' – with wines being produced using a high percentage of the grape (over 75%), many producers have begun to make Bordeaux style blends employing, for example, Cabernet Sauvignon and Merlot. One example of this is the Australian Wolf Blass, Eaglehawk, Reserve Cabernet Merlot (retailing at around £6-7), which mixes the smoothness of Merlot with the richer aromas of Cabernet Sauvignon.
New World Merlot, in keeping with the New World trend tends to be stronger, or used in stronger blends of approximately 13-14% vol. The quality of these wines can vary greatly, and should you develop a penchant for Merlot it is worth experimenting across a broad price range.
Merlot and Food
key here is to combine Merlot with food 'tough' or meaty enough to withstand its strong plum flavours and chewable texture. Bolognese and Carbonara fare well here. Merlot also goes well with beef dishes, chicken, lamb, game, pork and grilled salmon. The robust palate finds it particularly suited to strong, heard cheeses such as Cheddar.
You might also like...