Douro - Port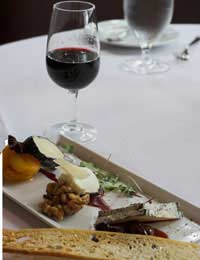 Port Wine like Sherry, is somehow quintessentially English, despite having been produced in Portugal. It is strange to think that a drink so suited to the cold UK weathers is produced in a Mediterranean climate. Port is made in the Douro region of Portugal, a valley running along the sides of the Douro river. The terrain here is ideal for the production of Port (sometimes known as 'Douro'). The name Port derives from the City 'O Porto', which is in the Douro region. This name came about as Port was orinally shipped from Porto. This has given Port a strong identity that is both routed in Portuguese culture and is synonymous with international culture. Port, being a fortified wine ages well as was ideal for transporting to far flung reaches of the Portuguese empire.
Though Port was initially produced in Portugal, and continues to be, it actually gained its world status on the back of British enterprise. Port was imported to the UK by British merchants to account for the lack of wine trade with France during conflict. Port is a sweet wine with very robust and heavy flavours.
History
Wine has been made in the Douro region for as long as 1'600 years, although Port as we know it goes back only two to three hundred years. The thing that separates Port from wines previously made in that region is its 'fortification': the addition of a small amount of Brandy to the barrel when the Port is in production.
Port was seized upon by the English, who would have it shipped to the UK before bottling it and selling it on throughout the world. These days, however, Port is bottled by law in Portugal only.
Production
Grapes for Port are grown on a harsh terrain, amongst granite rocks on steeply sloping hillsides. Though in some ways not ideal for growing grapes. However, the granite acts to drain the soil, forcing the plants to lay down strong roots, thus making them able to better with stand the harsh Portuguese heat.
Indigenous grapes are used in the production of Port. For red port Tinta Barroca, Tinta Roriz (also known as Tempranillo), Tinta Cao, Touriga Francesa and Touriga Nacional are used. The latter has the strongest taste and is the most fundamental to Port.s unique flavour. A white variety of Port is made using Codega, Gouveio, Malvasia Fina, Rabigato and Viosinho.Port is made by adding Brandy to the grape mixture half way through its fermentation. The brandy halts further fermentation and strengthens the drink (both in making it 'hardier' and in raising the alcohol content'. One part Brandy is used for every four parts of Wine.
Port is either aged in Oak Barrels or in glass bottles. The former are intended to be consumed quickly, the latter are intended to mature over time. The most sought after Ports are aged in glass bottles, and made only from grapes from the best Vintage years. These years tend to come every two to three years, with occasional gaps of up to five years. Vintage Ports have strong and bold tastes and are what really defines Port for those who have tasted it.
Other significant Ports include Aged Tawny Ports – known for its zappy 'style' more than its brute strength and Ruby Port. A ruby Port is relatively inexpensive and has strong dark fruity flavours. It is characteristic of Port in general, and is the Port that most of us will be familiar with.
Port with Food
When one thinks of Port the traditional 'Stilton and Port' pairing comes straight to mind. Strong cheeses pair ideally with the meaty complexion and complex fruity flavours of a Port. Tawny Ports go well with rich and rustic fruit pies.
Etiquette
When Port first caught on in the UK it was considered very much a man's drink. William Pit the Younger, Britain's longest serving Prime Minister was known to drink several jugs of Port daily, perhaps much to his wives dismay. Port was considered a mans drink to such an extent that it was only ever bought at functions out when the women had retired to bed!
You might also like...