Shiraz or Syrah Wines of France and the New World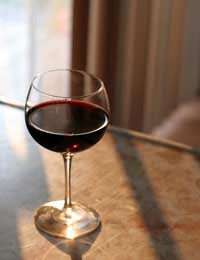 Shiraz (or 'Syrah' as it is referred to in France) is a grape grown both in France and the new world well known for its bold fruity and spicy tastes and aromas. 'Syrah', the lesser used form of the name is in fact its original name, though it is unclear where this name derived from. It is believed that the name may have come from the City of Shiraz in Persia, where the grape itself may have been imported from. There is however no solid evidence for this. The adoption of the term 'Shiraz' by New World wine producers can be accounted for partly by this myth, but as neither Australia, South Africa nor Canada owe nothing to Persia in terms of heritage or lineage it is likely that the form 'Shiraz' was adopted purely for ease of pronunciation.
A Wine produced from the Syrah grape in France is generally referred to by the region or vineyard in which it was produced, whereas New World wines are generally referred to by the name of the grape they were made from. For this reason Shiraz is a much more commonly heard name than 'Syrah'. In this article the grape will be referred to according to the wine making region under discussion.
Shiraz is used alone in the production of Northern Rhone Reds and in blends in Spanish and Italian Reds. In California it is often mixed with Southern Rhone grape varieties such as Grenache and Mourvedre.
The History of Shiraz
Advocates of the 'Persian origin' theory of Syrah's origin believe that the grape was bought to France by a returning crusader. It is believed that this crusader then set about developing winemaking methods to maximise the unique taste potential of the grape.
Another strand of thought argues that the grape was imported by the Romans from the Sicilian city Syracuse by the Emperor Probus. However, it is quite possible that the Syrah grape is native to France and that the heady and elaborate myth making that surrounds the Syrah grape may be entirely accountable by the exuberant nature of the drink: the profusion of spice, pepper, blueberries and plums beckon forth an unusual story.
In any case, over centuries the Syrah grape has been cultivated in France, and is the only Red grape legally allowed to be cultivated in the Northern Rhone region, where it produces famed Reds from Appellations such as 'Hermitage' (in legend the vineyard founded by the aforementioned returning crusader) Cote-Rotie and Cornas.
Wine is still produced in the Northern Rhone region employing traditional methods. Central to this is terroir, and Syrah benefits from being grown on steep hillsides in full face of the Sun, and the cooling wind.
Shiraz was taken by French Hugeonots to the South Africa and from there to Australia in the 17th Century.
New World Shiraz
These conditions are ones easily reproduced in the New World and may account for its widespread cultivation in Australia, South Africa, Canada and California (where, to confuse things, the grape is called 'Syrah', as in France). So, naturally, the production of Shiraz has taken off in climates and within economies that favour mass production. It wasn't until the 1980's that widespread growth of Syrah began in California, and even more recently when it began to be grown in Washington.
As discussed elsewhere, the mass production of wine in the New World sometimes leads to over simple, vulgar wines, in the sense that subtleties are eradicated in favour of bold easily marketable flavours. This is true often of Shiraz wines that are sometimes all fruit and spice, with little or no attention to textures and undertones. That said, something suprising took place with the production of Californian Syrah, due to the close attention aid to terroir (as in Rhone). Californian Syrah's are consequently respected for their complexity. Also look out for those from South Australian wine producing regions.
Shiraz with Food
Shiraz is said to blend well with the following food combinations: Beef; Goose; Lamb; Pork; Cheddar; Parmesan; Kangaroo; Ostrich.
Exploring Wine is sponsored by Purely Energy, who have funded a lot of our content. If you are looking for a low cost business energy supplier, take a look at their website.
EXPLORING WINE IS FOR SALE.
This website is for sale [more info].
You might also like...