Buying a Box of Wine Instead of a Bottle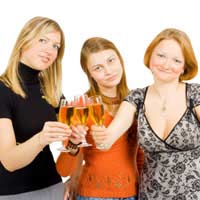 In the world of wine the wine box (that is the cardboard box that houses some kind of plastic bag incorporating a tap with which to 'pour' the wine) is not very respected. It is not often (never, in fact) that a wine expert will refer to the wonders of a 'vintage wine box'. So when might a wine box be preferable to a bottle, or a case of wine?
When to Buy a Wine Box
A wine box holds usually four bottles of wine in the space taken up by little more than one bottle, and the wine keeps better in a wine box, due to the plastic (or sometimes foil-like) material that comprises the inner bag. It is generally cheaper to buy wine by the box than to buy it in bottles. This all adds up to wine boxes being ideal for casual parties and celebrations, or for extended holidays (like over the Christmas period, for example), whilst not being ideal for expensive dinners, where the wine needs to be specifically and of a quality that will complement the ingredients in the meal.
Wine boxes naturally lend themselves for quick and constant top ups and invite 'quaffing' with absolutely no regard to how much wine is left in the box –as it is usually completely impossible to tell! With regard to this point it is usually wise to have several boxes on the go at a large scale party!
It must be noted that wine in a box is not necessarily of an inferior quality to wine from a bottle, and for this reason it is wise to pay attention to what it is you are buying and serving –serve the better stuff earlier on and the less good stuff when people have relaxed and their taste buds are not so alert. Be sure not to have several boxes open and available for the guests to pour their own without making it clear which wine is which: you have economised by buying boxes, but that does not sanction turning your gathering into a free for all in which no one knows or cares what they are drinking! Try and be respectful of what you choose, just as you would if buying bottles.
Enjoying Boxed Wine
Note that whilst boxed wines can stay fresh for as long as several weeks after they are opened this is not to say that they will better for longer than bottled wine. Boxed wine does not keep as well as bottled wine in the long run.
You might also like...