Champagne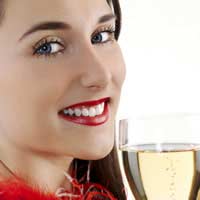 Champagne is without a doubt the most famous wine region in the world although little is known of its location or environment by many Champagne drinkers.
Champagne is located about 100 miles East of Paris, and is the northernmost great wine region in the world. Its climate presents difficulties, as the Pinot Noir grape which is grown there is very temperamental. In Bordeaux, where the Pinot Noir is famed, the vintage is notoriously unpredictable. In Champagne, the regional climate presents such problems, that it has been historically difficult to make anything resembling red wine there. This left medieval monks scratching their heads until they reasoned that if they couldn't make a normal wine, they would try something completely different. Hence 'Champagne' of the sparkling variety was born. It is unclear how much of an influence English drinkers had on this development, and it is often said that sparkling Champagne was introduced in England before the vintners of Champagne discovered it! This may have occurred as wine from Champagne that was exported to England entered a secondary fermentation in the bottle before be drank by English consumers.
The popularity of Champagne with the English and others abroad led Merchants such as Moet to hold the strongest hand in the Champagne trade – often at the expense of the growers. This led to the 'Champagne Riots' (less fun than it sounds!) of 1910-1911, after which the vineyards laid more of a claim to the profits made from Champagne. This arguably has led to a greater diversity as viticulture has been more carefully tweaked from vineyard to vineyard.Champagne is split into 5 districts: The Aube, Cote de Blancs, Cote de Sezanne Montagne de Reims and Vallee de le Marne. The main centre of the Champagne industry is Reims, where many of the large Champagne houses are based. Principally the success in producing sparkling wine is derived from two things in Champagne - constant rain and chalky soil.
Demands on Champagne
In recent years Champagne has become a victim of its own success. It is in such high demands that the Champagne region is struggling to cope. American hip hop stars, City of London high flyers and party goers the world over have through copious consumption of Champagne pushed the Vineyards to their limit. Champagne producers can do one of two things: drive prices up, or relax Champagne boundary laws. Driving prices up is a temporary solution; one that could backfire and see many punters switch allegiances to Cava, Prosecco or Australian Sparkling. For this reason the second option – to allow the area just outside the Champagne region to produce 'Champagne' is being considered. This would be an unprecedented step, and one that will doubtless be debated for years. One estimate suggests that any such change would take as long as ten years to come about!
Champagne and Food
Champagne is not traditionally paired with food as such, and is more often enjoyed as an aperitif. When it is paired with food, it is normally enjoyed alongside party or buffet foods. In this context seafood, such as smoked salmon goes particularly well, and the Champagne region is well known for its love of seafood. Other much heavier regional foods do not pair so well with Champagne, although it is enjoyed as an ingredient in a white sauce, or à la champenoise.
You might also like...